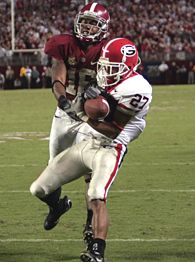 The University of Alabama football team, demoralized by
my post
about why I dislike head coach Nick Saban,
lost to the University of Georgia
26-23 in overtime on Saturday. Seriously, the press about what a coaching genius Saban is (and I suppose that he may be, despite the fact that he's a worm) notwithstanding, the most that you can say about the Alabama football team is that their defense is pretty good. Their offense is, um, uninspiring. They're simply not good enough to beat good teams (like Georgia) thoroughly, which means that the best they can hope for is to stay close and win at the end. That's what happened last week against Arkansas. They were outplayed this week against Georgia, and Georgia was able to pull it out in the end. I would expect to see the same story repeated as Alabama plays the rest of its SEC schedule -- they might be able to beat Tennessee and Auburn, but it won't be by much. And I don't see how they can possibly stay close with LSU, absent a miracle.